IDFA in the Vondelpark
IDFA has been given the opportunity to realize a long-standing dream: An open and accessible place for documentary film and art in the city's iconic Vondelpark. The new location will offer a year-round program of screenings and events for audiences, film industry professionals, and school children.
"IDFA Vondelpark claims a prominent place for documentary film"
Update June 27, 2023

There's one thing that documentary producer Hasse van Nunen, filmmaker Niki Padidar, and director-duo Petra and Peter Lataster agree on wholeheartedly: IDFA's new Vondelpark home is the answer to filmmaker's need for a documentary film meeting place. A space for filmmakers and audiences to get together, watch films, and swap experiences all year round. "This can unite us as a film world."
Memories
Hasse van Nunen is a documentary producer and co-founder of Een van de Jongens, a production house that has been making documentary films for the last twelve years. The Vondelpark Pavilion is an extra special place for her. "When the Filmmuseum (Currently Eye filmmuseum) was still located in the building, I organized evenings for European student films"," says Hasse. "My current co-partner also screened his graduation film there. That same day, we discussed the name for our company, while sat in the front row of the cinema together. He then came up with the name Een van de Jongens ('One of the Boys'). In a way, you could say that it all started for us right here, in the Vondelpark Pavilion."
Meeting place
Petra Lataster-Czisch—who has been making multi-award-winning documentary films such as Miss Kiet's Children, Not Without You, and Awake in a Bad Dream with her husband Peter Lataster for decades—also has vivid memories of the iconic building. "You could see beautiful, almost forgotten films here, in the days of the Filmmuseum," Petra shares enthusiastically. "Films by Bela Tarr for example, a filmmaker I had never even heard of, coming from the former East Germany. I also made a lot of film friends here. I hope that will happen here again soon." Peter chimes in: "If the IDFA Vondelpark were to become a real meeting place again, just like in the days of Eye Filmmuseum, then that would wonderful."
Special atmosphere
For filmmaker Niki Padidar, whose film All You See opened IDFA 2022, the building's Eye Filmmuseum era is just a little too long ago for her to have experienced first-hand. Her first memories of visiting IDFA are still striking: "When I was little, my mother always took me to the festival," Niki recalls. "She would watch about sixteen films each year, and I was allowed to join from time to time. I can't remember what I thought about the films, but I always found the atmosphere very special."

Now, years later, Niki still feels that when attending the festival. "Next to watching extraordinary films during the festival, you run into colleagues and nice people in local spots in the city, like the historic Café Schiller." IDFA has always been very important to Niki, she shares. "My first film was a short children's film, Ninnoc, which premiered at IDFA in 2015 and immediately won a prize for Best Children's Documentary. The film was included in the Best of IDFA on Tour and was screened across the world thanks to IDFA. That was a surreal start to everything. Especially when my second film was selected as opening film for IDFA, and I was suddenly presenting my film to a full Royal Theater Carré. I know of one filmmaker abroad who attended his own premiere all alone. It was incredible to see my film premiere in my own city, together with my friends, family, and so many other people. IDFA has played a very important role in my film career," Niki recalls with a laugh.
Inspiration
Hasse knows the festival very well, primarily as a producer. Her first experiences have always stayed with her, she recalls. "As a young producer, I found IDFA quite overwhelming. It felt like a sort of Champions League that I never expected to be part of. It's a place where the entire world of film comes together: the biggest filmmakers, producers, and broadcasters all in attendance. That's amazing for a producer, because you can speak to, run into, and even dance with everyone at the festival. IDFA is also a great place to feel inspired. Gianfranco Rosi gave an elaborate Filmmaker Talk last year, as part of IDFAcademy. I was hanging on his every word. It left me feeling incredibly inspired to make new things and find new ways to guide filmmakers. There's a reason why I leave every edition thinking: This is why we make films!"

Home base
IDFA is, in Petra and Peter Lataster own words, a home base. It's a very nice and familiar place. "All of our films, with two exceptions, have premiered at IDFA," Peter recounts enthusiastically. "I don't know any other place where documentary films receive such a deep appreciation." "IDFA is a celebration. Whether you have a premiere screening or not," Petra continues. "We once missed an edition of IDFA because we were busy filming, and I thought that was a disaster. It's absolutely essential for filmmakers—a space for inspiration and food for thought."
"The same goes for audiences," says Peter. "Nowhere else in the world has documentary film been embraced by so many people. It's completely unique. IDFA belongs to Amsterdam, and Amsterdam wouldn't be the same without IDFA. And it'll be even more fantastic if we get a central spot where everyone can meet, the whole year through."
With such an illustrious career, Peter and Petra have more IDFA memories than they can count. A few moments stand out to them, however, Petra recalls. "When Miss Kiet's Children premiered at IDFA, a number of Syrian refugee children [from Miss Kiet's class] were sat in the front row of the Tuschinski's main cinema. They started laughing loudly, way before everyone else had the chance to read the subtitles. This made the screening double the fun for the rest of the audience. Not only did they watch the film, but they also enjoyed witnessing the children have such a fun time watching it too."
The importance of documentaries
"I remember a number of special screenings with established directors, who shared stories about their films," says Peter. "I can still remember when Nikolaus Geyrhalter presented his film Our Daily Bread—a film about the enormous consequences of the global food industry—and had the entire room lash out at him. It was amazing to witness a full Tuschinski get angry with the film and the filmmaker, while Geyrhalter calmly explained himself. It clearly showed the filmmaker's commitment to the film." Petra: "It shows you how important documentary films are, especially when they elicit this kind of reaction from the audience."
The four filmmaker's enthusiasm about the new IDFA location is unmistakable. "I hope that this space becomes a meeting space for filmmakers," Hasse begins. "We're missing that space here now. I'm hoping this become a space that you can visit, to encounter other makers, and talk about film. I also hope that this becomes an accessible space to show films to audiences, and even films that aren't finished yet. That way, you can show audiences that filmmakers are busy creating here. I would like to do something that can unite us as a film world," Hasse continues. "We should get back to the fun of making films together—so this becomes a place to watch together, work together, and create together."
Not just film
"I was extremely happy when I heard that IDFA would be moving into this iconic building. I see it as a statement for this genre of film," Niki continues. "You're letting the city and the world know that documentary film is important and deserves a prominent spot. I think that's amazing. I hope that there are activities all year round. Not only film screenings, but also evenings with filmmakers, or a concert based on the soundtrack of one of the films." Niki finds herself overflowing with ideas. "I would find very entertaining if documentary film was treated like fiction, with props from the documentary film on show in the cinema, with a story surrounding it. And I would find it great if a screening was followed by a conversation with other makers about the process behind making the film. When I started out as a filmmaker, I always thought those conversations were really nice and educational."
365 days a year
Peter also emphasizes what he finds exceptional about the new IDFA Vondelpark: "What I find fantastic is that documentary film is getting a home. It is unique on a global scale—a place where we can get together 365 days a year to watch films, talk about films, or to organize events for children and students. I strongly believe in the importance of building tradition, something that can grow. IDFA has already done that with the annual festival, but there's room to expand the institution, like a living organism. That way, documentary film claims an unmistakable and prominent place within our art world," Peter rings enthusiastically.
Different generations
"I would want to organize something for refugee children," says Petra. "Thanks for Miss Kiet's Children, we discovered how eager many of these children are to absorb art and culture. I'd like to come up with a full-day children's program where we explain how documentary films are made, how they can make documentary films themselves, and how films can help them reflect on their own lives."
Niki also underlines the importance of film education in IDFA Vondelpark. "You can teach children so much about imagination. I think there are countless ways to engage children, not just have them watch a film passively, but show them films that amaze and confuse, films that stimulate children's curiosity and encourage them to explore for themselves. It would be great if young people could experience all of that here."
Petra contemplates how we can connect different generations. "I hope we get the chance to see older and acclaimed documentary films here. That younger generations get the opportunity to experience and be inspired by these acclaimed films. I truly look forward to seeing films that I admired as a young woman once again at IDFA Vondelpark. And you can bet we'll be here very often!"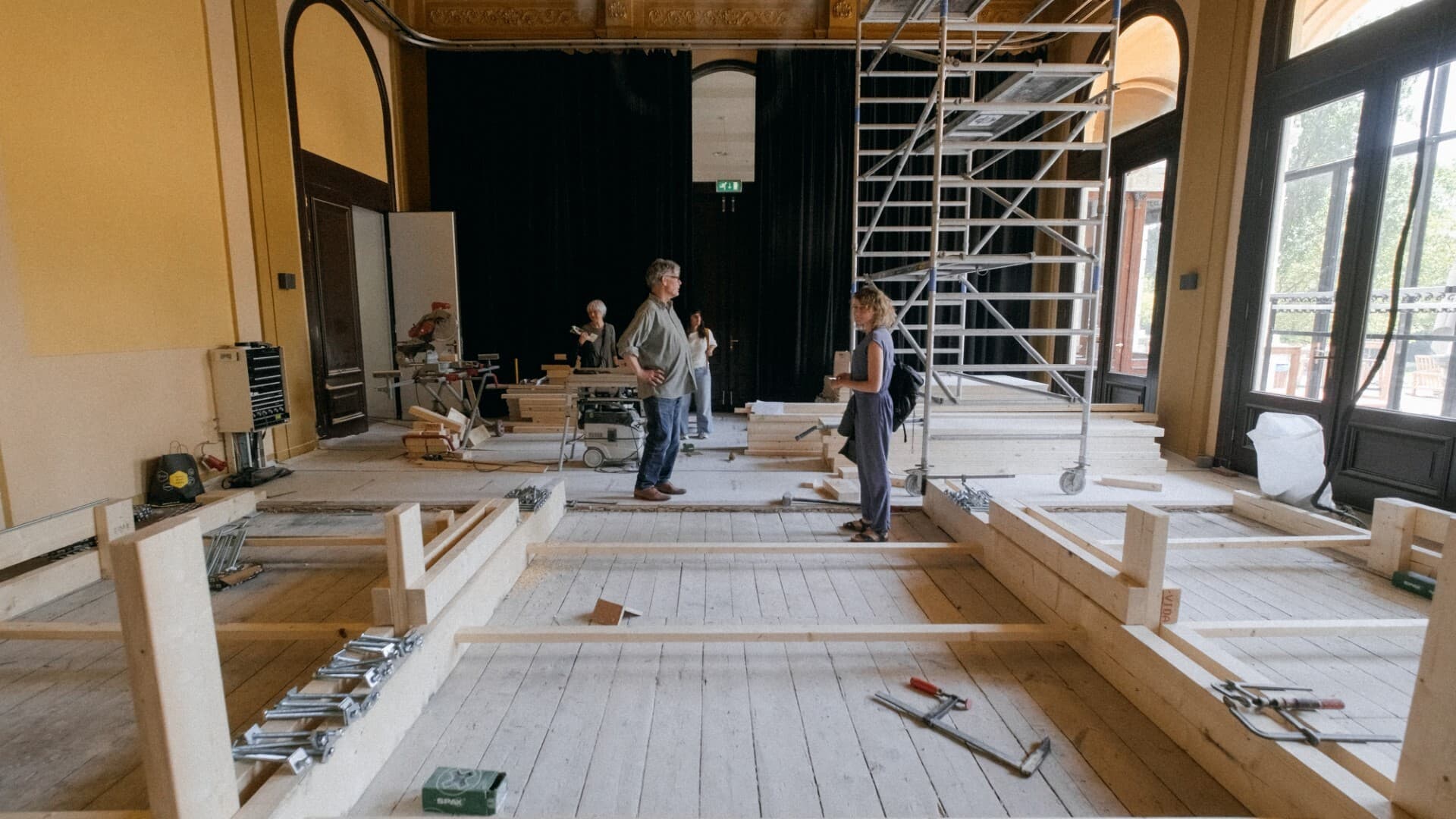 Photo: Coen Dijkstra
IDFA Vondelpark: "The stories told in the building will give it meaning and bring joy"
Update May 10, 2023 

After signing the lease for the Vondelpark Pavilion, IDFA immediately got contractors involved to start the renovation. Architects Suzanna Weeda and Ronald Hooft, from architectural firm &prast&hooft, have since drawn up plans in close consultation with IDFA—and are now ready to actualize them in the coming months. Once renovated, IDFA will eagerly welcome audiences, professionals, and school children to our new home base, decked out with an intimate screening room and welcoming entrance hall. How do the two architects behind the restoration plan to bring IDFA's character to the monumental building? What did they set out to accomplish?

Gravel tiles
As we walk into the building's entrance hall together, the extensive thought that has been put into establishing that balance becomes clear. "The entrance hall is a very imposing space, as is the building's façade. That is not necessarily what IDFA wants to communicate," explains Suzanna. "That's why everything we are introducing to the space will work to contrast that. The bar is made up of gravel tiles, a common material found in your backyard. The bar will also be made adaptable, to allow the space to take on different identities. Large, beautiful arches will be restored on either side of the bar, filled with self-designed, multi-layered fabric panels," Suzanna describes enthusiastically. "This represents the rich diversity of stories that IDFA showcases. And the monumental entrance hall will be fitted with simple benches, inviting visitors to sit and have a drink before and after a screening."
"The walls will be decorated with panels related to the Vondelpark," adds Ronald. "They will reflect the building's environment, to bring the outside world inside."
Centerpiece
One of the most remarkable spaces will be the IDFA Cinema, fitted with 72 seats. The ornamental ceiling is currently covered up by technical fixings. "We are going to expose this and reveal the ceiling in all its brilliance, by restoring its original state," says Suzanna. "Anything we are going to add to the space will be separate from the walls and ceiling." Weighing in, Ronald adds, "The decorative ceiling will be the room's centerpiece. Audiences can admire for a few minutes before the film starts. Then the lights will dim and 72 people can sit comfortably in an understated and luxurious environment, with perfect air conditions, fantastic sound, and superior image quality. Everything to place documentary film in the spotlight."
Next to the cinema, a multi-purpose space will be available for workshops, film screenings, events, and exhibitions. "Using curtains, we can create different atmospheres in the room, to make it adaptable to everyone's needs," explains Suzanna. The social space, adjacent to the cinema and the entrance hall, will offer a unique combination of spaces and guests. "We hope that international guests feel at home here, comfortable to enjoy a coffee, edit their films, write scripts, and have meaningful conversations in this social space. The goal is to create an interactive space for everyone to meet: IDFA staff, professional guests, and all the building's visitors."
&prast&hooft has an extensive history of designs under their belt, including cinemas and the cinema in Forum Groningen. "That was a totally different building," says Suzanna, "so we really started from scratch when designing the cinema. This is an assignment with its own distinctive dynamic, which makes it great to solve all the unique riddles along the way."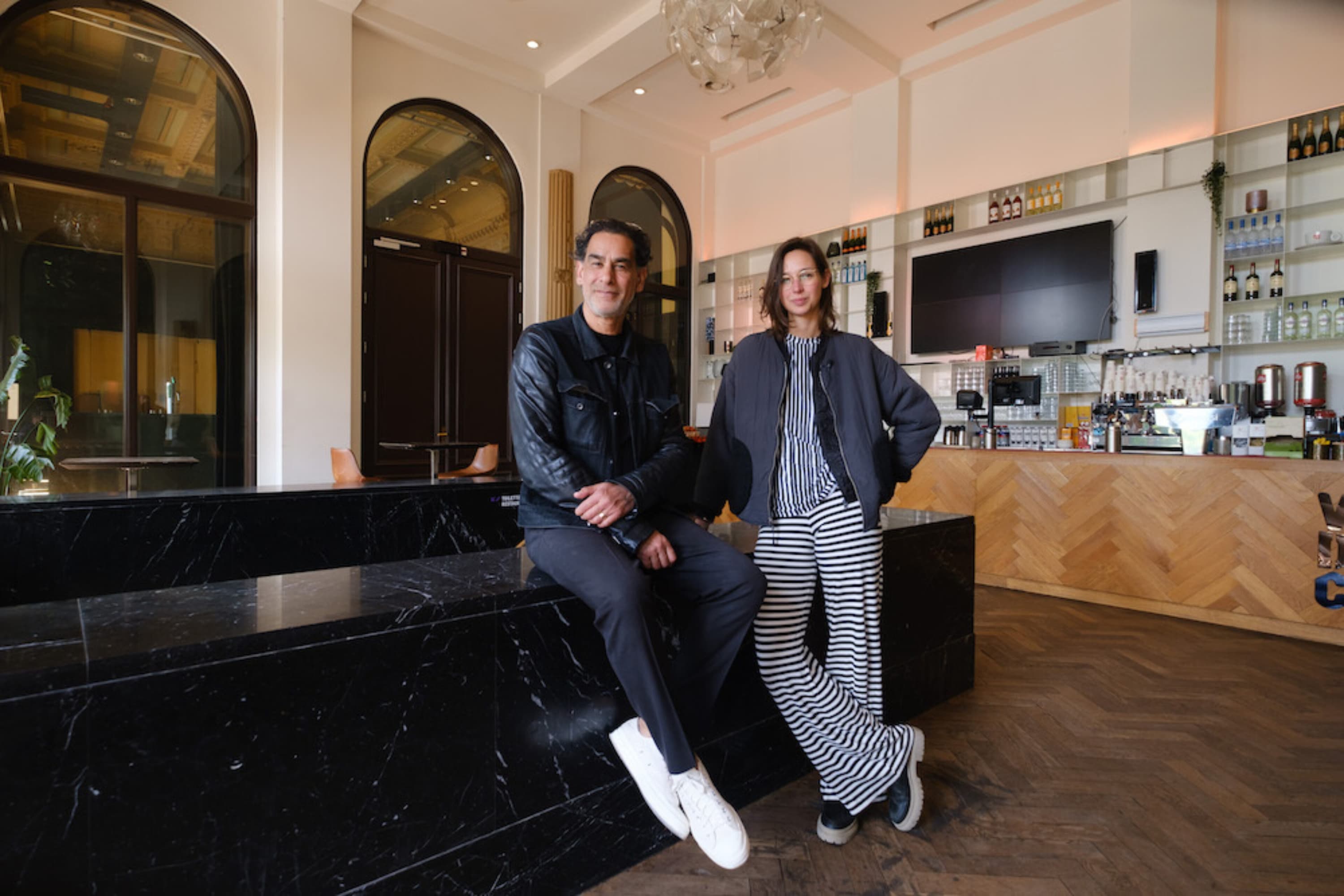 Foto: Coen Dijkstra
IDFA signs lease contract for unique documentary cinema in Amsterdam
Update April 6, 2023

IDFA has been given the opportunity to realize a long-standing dream by the Municipality of Amsterdam: An open and inclusive space for documentary film and art in the city's iconic Vondelpark. The new location will offer a year-round program of screenings and events for audiences, film industry professionals, and school children.
The lease contract to the Vondelpark Pavilion was signed this week with the Municipality of Amsterdam, following which the renovations of the historic building can officially begin. After the summer, IDFA will commence with 'pilot programming', with the Vondelpark Pavilion slated to become a festival location in November. The official opening will be next spring, when the space will open its doors to anyone looking to be inspired by the art of documentary—from special film screenings on the silver screen to immersive installations and workshops, from debates to networking opportunities.
The Vondelpark Pavilion is the prime location for IDFA to expand on two key focus points in the program: talent development and attracting new and young audiences. The location also aligns perfectly with IDFA's ambitions of developing beyond an annual film festival taking place in November, to establishing IDFA as a frontrunning, year-round institute for creative documentary film.
Touria Meliani (Deputy Mayor Art and Culture): "It's excellent that IDFA will be finding a new home in Vondelpark Pavilion. Our city will gain a new, accessible stage for documentary film, with screenings available to a broad and diverse audience throughout the year. I am also extremely enthusiastic about IDFA's plans to dedicate space to talent development and educational programs."
Loyal partners—such as Fonds 21 EXTRA, Brook Foundation, BPD Cultuurfonds, Gemeente Amsterdam, Prins Bernhard Cultuurfonds, the Ministry for Education, Culture and Science, and all IDFA Friends and Special Friends—have been committed to supporting the plans from the start. Additional encouraging conversations have been conducted with both established and new partners.
IDFA launched a crowdfunding campaign in November 2022 to raise funds for the installation of a screening room in the historic Vondelpark building. More than 500 committed contributors donated a record €125,000 in total to the refurbishment and technical costs required to make the dreams of an IDFA Cinema a reality.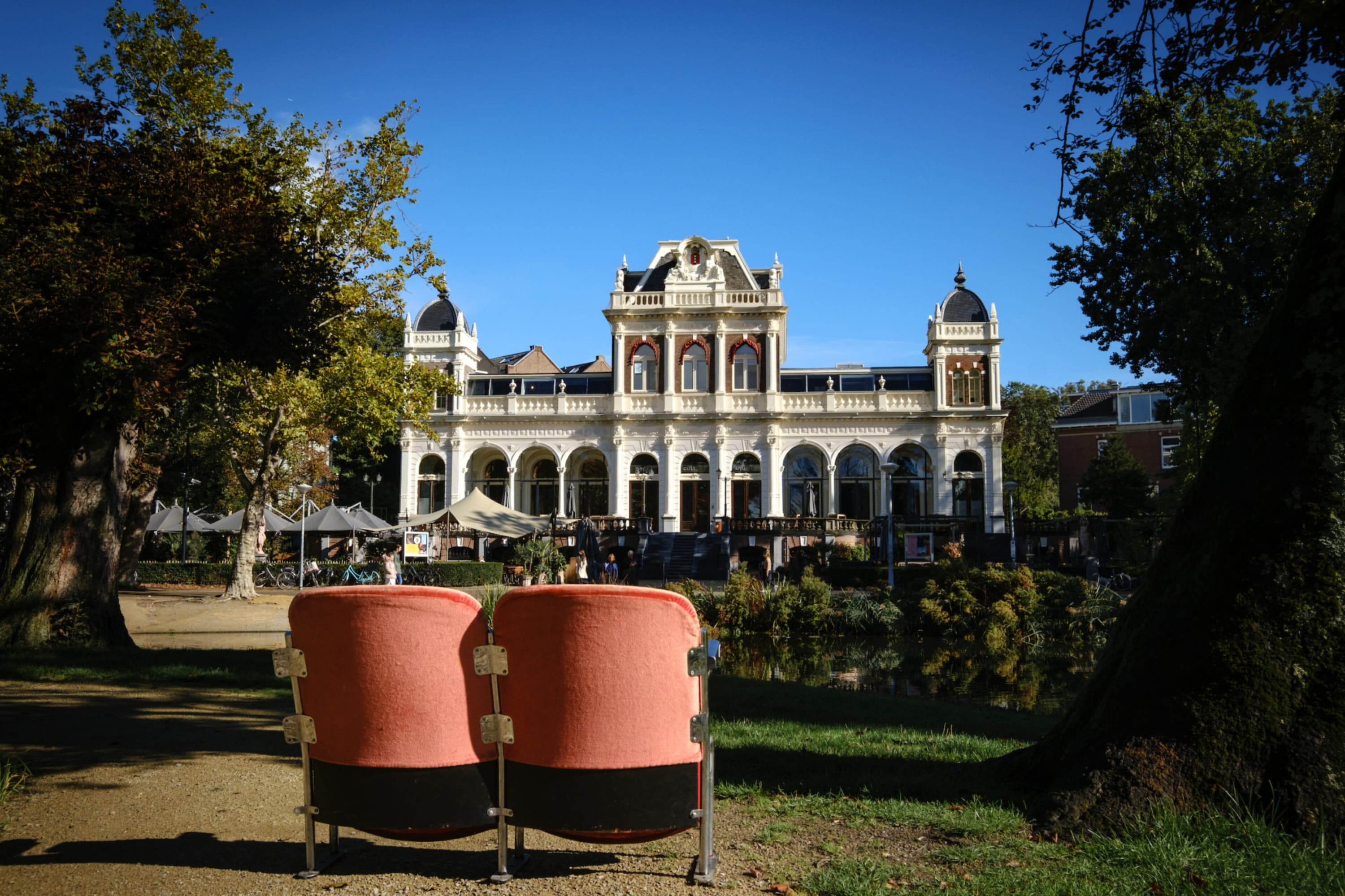 Foto; Coen Dijkstra