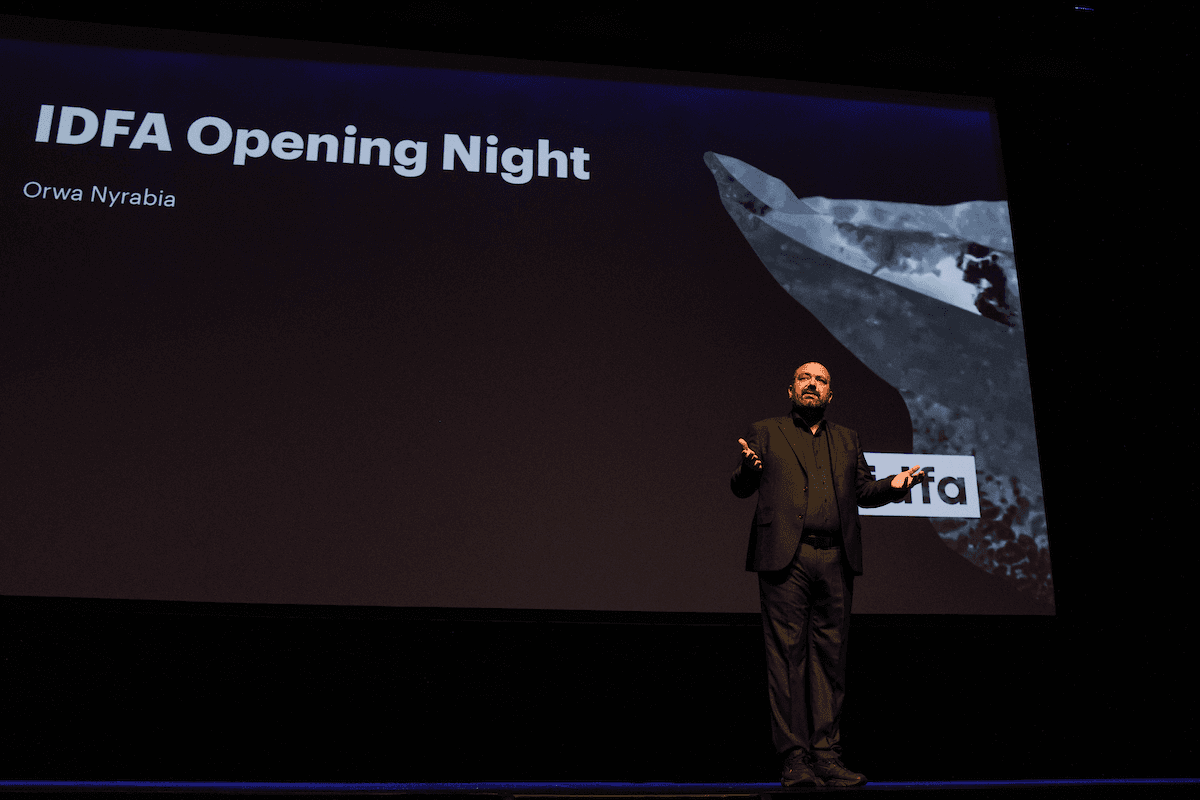 IDFA and Artistic Director's statement about the Opening Night  
We are deeply thankful to the many friends and colleagues, from the Jewish community in Amsterdam and internationally, from Israel, from Palestine, and many other places, for reaching out to IDFA, over the past 24 hours, following the surprise protest that took place on our opening night and the hurtful slogan written on a banner by the protestors, for voicing their concerns, expressing the hurt they felt. Our mission is to create a safe and open space for civic debate, to exercise freedom and democracy, equity, and to present a complex view of the world and of the human condition. Our mission and our intentions are the opposite of hurting anybody or making them feel unsafe. That slogan does not represent us, and we do not endorse it in any way. We are truly sorry that it was hurtful to many.
It was a difficult journey towards the opening night. Like every other cultural institution, IDFA is trying to be respectful and useful and that is not easy within the current political climate. We sincerely opted for an approach that is open, that respects everybody, every pain, and provides a safe platform for all voices. It is a difficult and a risky approach, and it does not make any side particularly happy with us. But, we believe in this position being necessary, being the role and the true meaning of a documentary film festival. The past month was extreme, with news of death tolls filling the news, and various forces pressuring for a clear-cut position that could lead to marginalizing the pain of the other. Our Artistic Director Orwa Nyrabia has spoken and written about this choice of ours many times over the past month. Also on stage at the opening night: 

"During the opening night, I spoke on stage about this open position. I said that during such dark times a festival is necessary, and a festival proves its worth by providing that missing safe space for everybody, for a serious and responsible civic debate through the art of film. I repeated that everybody is welcome here within the lines of respecting the other. As I was moving to the next part of the event, I heard chants from the balcony, and people took the stage. The slogan written on the banner held by the young protesters, which later was reported as very visible to the audience but not to me on stage, is a triggering statement and an offensive declaration for many, regardless of who carries it. It does not represent IDFA, and was and will not be endorsed. I apologize for not paying attention to the banner in the moment. I clapped to welcome freedom of speech, and not to welcome the slogan. I only learned about the slogan on the banner from the team as I went backstage when the opening film started."
 
IDFA would like to clearly state that we understand that the slogan was hurtful, and sincerely apologize for how this happened. There are many ways that people use or read this slogan, and that various sides use it in opposing ways, all of which we do not agree with, and we believe that this slogan should not be used in any way and by anybody anymore. IDFA does not endorse or agree with any of that. We do not endorse or accept justification for any violence, mass murder, collective punishment, dehumanization, oppression, militarization, injustice, or chauvinism, no matter from whom or against whom. We do not accept to see history with one eye, to simplify human tragedy, or to generalize and judge any people by their worst. We stand by the ethics of valuing human life, all and every human life.